The PTSO holds three major fundraisers during the year for parents/guardians. Please give generously to the dues drive, Educational Excellence Fundraising Campaign, and Celebration (seniors' post-prom party). The PTSO also solicits funds from local businesses.
Your donations are critical for funding school activities, enrichment materials for classrooms, and events – both social and educational – and for making them accessible to all students. PTSO-funded items directly support students, staff appreciation events and parent education. The PTSO is your direct connection for supporting your student's school.
See the charts below to get a sense of how the funds are raised and how the donations are used at Newton North to support students, teachers, and parents.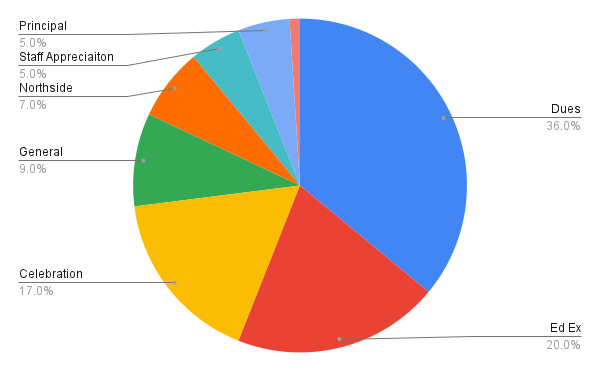 Donate via PayPal, (even if you don't have a PayPal account)




or Mail a check payable to "NNHS PTSO" to:
NNHS PTSO
457 Walnut St.
Newton, MA 02460
All contributions are tax deductible. The PTSO is a 501 (c) (3) tax exempt organization. If you have any questions about NNHS PTSO charitable giving, please contact Newton North PTSO Treasurer.
Matching Funds
Many companies match employee charitable donations; you may be able to double or triple your gift. See your HR representative for more information.
Educational Excellence
Educational Excellence (EdEx) donations enhance teaching and learning at Newton North. In 2020-2021, our Education Excellence Fundraising Campaign is raising funds to foster outdoor learning and enjoyment of our beautiful campus by installing permanent shades and furniture at various locations around the building, and to cover associated maintenance costs. Over the past two years, we have developed a new appreciation for the joys and benefits of learning outdoors, and these structures will encourage the flexible outdoor use of our campus for years to come.
In 2020-2021, the Education Excellence Fundraising Campaign raised funds to establish the Collaborations in Anti-Racism and Equity (C.A.R.E.) fund at Newton North High School. The purpose of this fund is to provide teachers with curriculum-related resources, such as instructional materials and speakers, that will help all students develop anti-racist skills. This fund is dedicated to helping Newton North students develop skills around respectfully discussing racial topics and would provide funding for speakers and resources such as partnering with Teaching Tolerance, as well as supporting student projects to fight for social justice and equity. The 2019-2020 EdEx campaign underwrote the Tiger Talks Fund which brings speakers and special programs to NNHS students.
Celebration
Celebration is the PTSO's exciting post-prom party for seniors, held at Newton North from 11:30 p.m. to 2:30 a.m. All seniors, whether or not they attend the prom, are invited to attend Celebration free of charge. The goal is to keep students safe while giving them a night they will always remember. Click here to donate to Celebration!